October 06, 2009
Dog's guilty consciences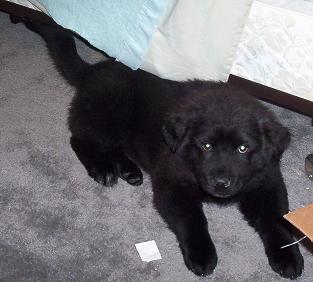 updated below
That's Kagogi the Destroyer back when he was more serious about destruction.
More specifically, that's Kagogi the Destroyer after he destroyed something and is trying to look innocent but can't manage it because he has a guilty conscience.
So when I get home he's usually all excited to see me. He barks and "harfs" and carries on until I beat him up for a while.
On days when he's done something, like when I forget to take the garbage out in the morning and he's had smorgasbord, he's much quieter. He lays there looking all guilty and barks when the key hits the lock but stops before I get to the bedroom.
When that happens I look around the small apartment until I find it. Then, the beatings commence. If what's he's done merits a beating (Like eating on the bed) I spank him much less hard than when we're playing, but you'd think I was skinning him from the sounds he makes. "Arrrrrrrooooooooo".
When we're playing he thinks a 2X4 to the head is the height of hilarity.
So today when I got home he was very quiet. He didn't even bark when I put the key in the lock, silence.
I can't find what the heck he did. There's nothing anywhere that he could have done so I don't know what to do. He probably deserves a beating but I won't find out why until I clean up next or stumble across it this week.
Eh, I'll eat some steak and not give him any, that's his second worst punishment.
That'll learn him.
Title edited because I'm an idiot.
Update
I found out what it was last night as I was getting ready for bed, he did his bi-annual crap in the bathroom.
So he deserved a beating. Oh well.
Posted by: Veeshir at 09:27 AM | Comments (4) | Add Comment
Post contains 307 words, total size 2 kb.
August 06, 2009
July 30, 2009
Let's blow up the blog
My first attempt at a video has to be my favorite You Tube.
Update: Fixed 10/14

Posted by: Veeshir at 11:30 AM | No Comments | Add Comment
Post contains 21 words, total size 1 kb.
14kb generated in CPU 0.04, elapsed 0.0635 seconds.
46 queries taking 0.0461 seconds, 85 records returned.
Powered by Minx 1.1.6c-pink.